Utilizing Modularity in
Heavy Duty Range Design
Courtesy SEFA Marketing Department
Flexibility is the name of the game when it comes to selling heavy duty ranges. In the current climate, there is a growing emphasis on the ability to pivot and adapt. Strategies and menus change quickly—so should the cooking equipment restaurants depend on.
Vulcan's heavy duty, V-Series ranges are designed and constructed modularly—meaning the tops and bases are separate units that can be independently selected to match the needs of the individual operation. This provides operations the flexibility to build the perfect range to meet their needs.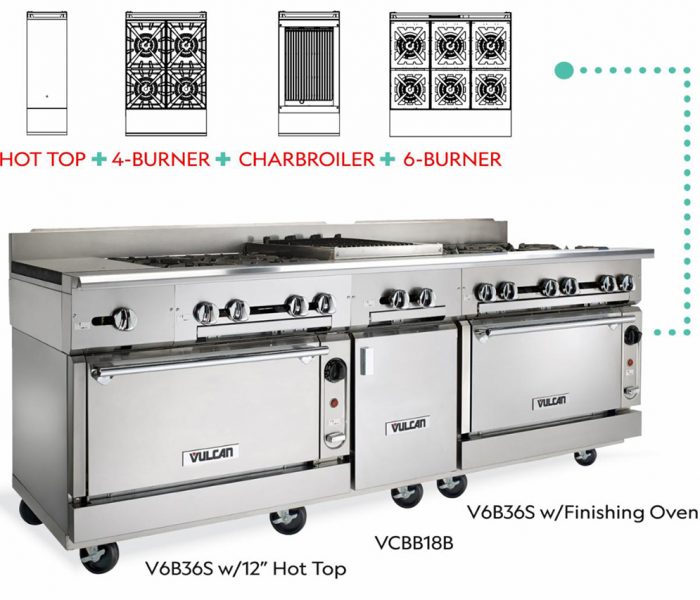 If at any point after installation menu changes cause the current configuration to no longer match a kitchen, Vulcan V-Series modular components can easily be changed out. For example, if a griddle top is needed rather than a six-burner section, the unit can be retrofitted in the field. This also rings true for base options. Easily swap an oven to a refrigerated or cabinet base with the never-ending possibilities of Vulcan V-Series ranges. 
Best of all—if ever needed in a pinch, many standard Vulcan
V-Series ranges, like open top burners, charbroilers and griddles with standard or convection oven bases, are in stock, ready to ship!
When it comes to ranges, opting for modular designs offers a variety of benefits, including:
Not being confined to "pre-configured" or "pre-unitized" range selections
Avoids added costs associated when ordering "custom" line-ups
No increased lead times
Contact us today to see how Vulcan and Supreme Fixture can assist you and your business with your foodservice needs. Give us a call at (501) 455-2552 or click here to contact us and a member of the #SupremeTeam will be in touch with you shortly.